Creating a Lambda Layer for running PHP on Lambda
Lambda Layers
A lambda layer is a bundle that can be uploaded and used with multiple lambda functions.
This method of putting PHP in to a layer is similar to the old trick of creating a single binary enterpreter which gets called from a shim in another language.
Claire Liguori of AWS has created a great tool called img2lamba which will convert a Docker Image to a Lambda Layer.
The method below is derived from the example included with the img2lambda project
Determine version of Amazon Linux currently in use with Lambda
We need to build our version of PHP on the same version of Amazon Linux used with Lambda.
Create a simple Lambda function to cat the contents of /etc/*release*, which will contain the Amazon Linux version.
Lambda is currently using Amazon Linux AMI 2018.03
Build PHP and the lambda-php image.
The Dockerfile will use AmazonLinux to build PHP.
The Dockerfile will take the lambci/lambda:provided image and install PHP from the build image.
The final image will be our lambda-php image which willbe turned in to a layer.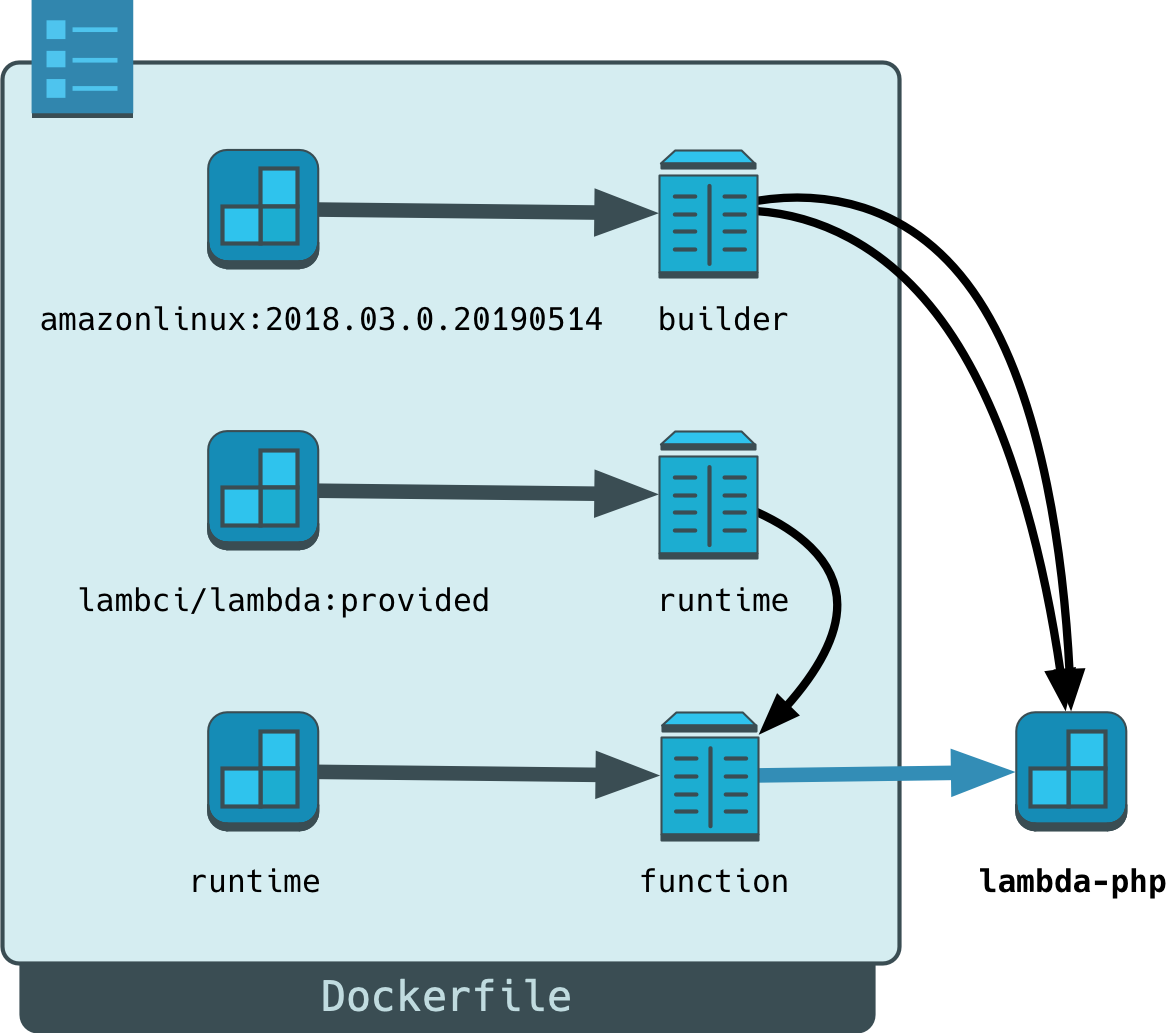 bootstrap
Test Lambda Functions
hello.php
Pass a JSON string with the variable name set and the script will parrot the name back as: hello, NAME
goodbye.php
Same as hello.php, but with goodbye, NAME instead of hello, NAME
Dockerfile
Build the docker image
Test the custome lambda runtime by running the hello function:
Install img2lambda
Convert Docker image to Lambda layer and upload to AWS
Use SAM to package lambda functions in function/src and deploy to AWS
Two functions will now exist:
sam-php-example-hello
sam-php-example-goodbye
Test hello
Create a Test Event with a data input of: